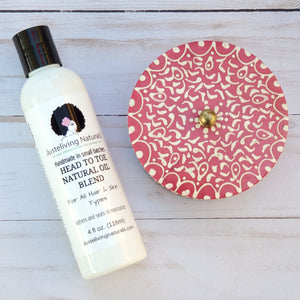 Our blend of natural oils has multiple functions.  Use to help restore shine in dull hair by sealing in moisture when used as a hot oil treatments or just as a sealant on damp hair to lock in moisturizer. 
Rub into your skin right after a warm shower for softer, smoother, non-greasy feel and watch you skin drink up the goodness. It also works perfectly as a massage oil as well. 
*Perfect oil blend for healthy locs as well.
ABSOLUTELY NO chemicals, NO synthetics, NO sulfates, NO parabens, NO alcohol, NO petroleum, NO glycerin.
Never tested on animals - Handcrafted & Made To Order
Follow the directions below to use as a hot oil treatment:
Before you begin, make sure your hair has been cleansed using an all natural, paraben and sulfate free shampoo or conditioner. Remove the excess water from your hair with towel, t-shirt or shake for a few minutes to leave your hair damp but not wet.
Place the bottle with the oil in a hot cup of water. Be careful the oil does not get too hot as it can burn your scalp.
Separate your hair into four sections and cover hair with the oil messaging it in from root to tip.
Comb hair from root to tip with a wide tooth comb or using your fingers twisting each section as you go.
Cover head with plastic cap and sit under a hooded dryer for 15 - 20 minutes to help the oil penetrate your hair shaft. You can also cover your head with a towel for 30-45 mins similar results.
Rinse hair gently with warm water and another round of conditioner making sure not to get hair tangled. Style as usual. 
NOTE: For best results do not shampoo after your hot oil treatment unless your hair feels really oily as shampooing will strip the hair of the benefits of the oils.  Condition instead.
Sweet Almond Oil, Avocado Oil, Raw Organic Coconut Oil, Grapeseed Oil, Apricot Kernel Oil, Organic Unfiltered Jojoba Oil, Vitamin E, Essential Oils, Natural Fragrance.
The statements and products have not been evaluated by the United States Food and Drug Administration (FDA). These products are not intended to treat, cure or prevent any disease.

Please feel free to consult your doctor or physician before using our products. Read the ingredients carefully as some products may contain oils made from nuts, so if you have a nut allergy please specify which oils to remove from your ingredients during the check out process. PLEASE DO YOUR RESEARCH.
Love this oil
I used this oil as a hot oil treatment after shampooing my hair. First time doing this. After rinsing it out my hair felt so soft! Definitely will purchase this again!