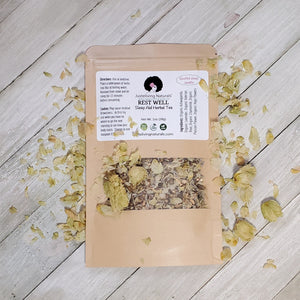 *Organic Herbs
Our sleep aid herbal tea offers you a non-addictive, natural way to induce a relaxed state, aiding in a peaceful, restful sleep. Specially crafted with organic herbs, this tea can help reduce anxiety levels and alleviate symptoms of insomnia, ensuring you drift off and remain snoozing until morning.
Valerian Root increases the level of gamma-aminobutyric acid (GABA) in the brain. Increased levels of GABA in the brain lead to falling asleep faster and experiencing better sleep. This fascinating root also contains anti-anxiety properties. It is very helpful to those suffering from insomnia, anxiety, headaches and some even report to it helping them with digestive problems, menopause symptoms, and more.
Lavender aids in reducing digestive issues and headaches. It also promotes sleep, improves insomnia and reduces anxiety. Lavender contains antioxidants that help to fight free radicals in the body.
Passion Flower is known to help those suffering from insomnia, anxiety, hot flashes and more. Much like Valerian Root, Passion Flower increases the level of gamma-aminobutyric acid (GABA) in the brain resulting in relaxation, enhanced mood, better sleep, and pain relief.
Organic Ashwagandha Root, Organic Lavender Buds, Organic Valerian Root, Organic Chamomile Flowers, Organic Passion Flowers, Organic Hops Flowers.
These statements and product have not been evaluated by the United States Food and Drug Administration (FDA). This product is not intended to treat, cure or prevent any disease.
Please consult your doctor or physician before using this product. Read the ingredients carefully for possible allergic reaction or medicine interaction. PLEASE DO YOUR RESEARCH.