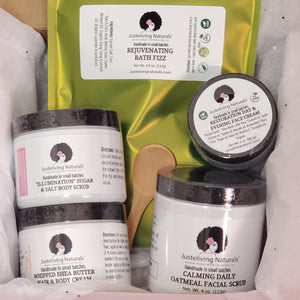 Moisturize, smooth and nourish the skin you're in with our customizable combo box.
"Illumination" Salt & Sugar Body Scrub
Restoration Day & Evening Face Cream
Your choice of any of our Butters or Head To Toe Natural Oil Blend
Calming Daily Oatmeal Facial Scrub
Rejuvenating Bath Fizz
ABSOLUTELY NO chemicals, NO synthetics, NO sulfates, NO parabens, NO alcohol, NO petroleum, NO glycerin.
Never tested on animals - Handcrafted & Made To Order
The statements and products have not been evaluated by the United States Food and Drug Administration (FDA). These products are not intended to treat, cure or prevent any disease.

Please feel free to consult your doctor or physician before using our products. Read the ingredients carefully as some products may contain oils made from nuts, so if you have a nut allergy please specify which oils to remove from your ingredients during the check out process. PLEASE DO YOUR RESEARCH.