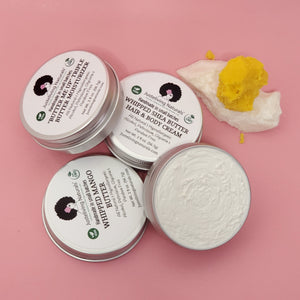 Unsure of which butter to select? Our Travel Set allows you to sample 3 of our most favored varieties before committing to a larger size. These 2oz containers also make great stocking stuffers.
Our Whipped Shea & Cocoa Butter Hydration has no additional fragrance except for its natural chocolate scent. Also, our Oh Roseshea Butter only comes in a Rose scent.
ABSOLUTELY NO chemicals, NO synthetics, NO sulfates, NO parabens, NO alcohol, NO petroleum, NO glycerin.
Never tested on animals - Handcrafted & Made To Order
All of our products are made by hand in small batches at the point of purchase.  Products are not premade (except for our infused oils).  This is to guarantee freshness.  As a result shipping usually takes 1-3 business days after the order is placed.  However larger orders can take as long as 5 business days depending on quantity, size, etc.  
Butters and creams can melt during shipping especially in warm weather.  If your butter arrives melted simply place it in the fridge for a few minutes to solidify.  While it might not be as fluffy as when it left our store it will still possess the same benefits.
The statements and products have not been evaluated by the United States Food and Drug Administration (FDA). These products are not intended to treat, cure or prevent any disease.

Please feel free to consult your doctor or physician before using our products. Read the ingredients carefully as some products may contain oils made from nuts, so if you have a nut allergy please specify which oils to remove from your ingredients during the check out process. PLEASE DO YOUR RESEARCH.
I LOVE THIS BODY BUTTER!
These body butter travel sets are MY FAV!! They are the perfect size to fit into my toiletry kit, which I keep stocked even when I'm not traveling, for weekend trips!