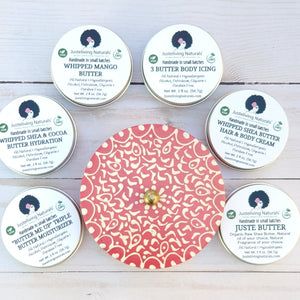 Order our Butter Sample Pack containing seven 1oz tins of our whipped body butters so you can try each of our awesome butters to help you decide which to buy later in a larger size. Perfect as a gift, swag bag giveaways, party favors or stocking stuffers.
The sample pack will include:
Whipped Shea Butter Hair & Body Cream
Whipped Mango Butter
Whipped Body Butter (in selected scent)

"Butter Me Up" Whipped Triple Body Moisturizer
Whipped Shea & Cocoa Butter Hydration (has a natural cocoa butter scent)
Cashmere Soft Whipped Body Butter (comes in it's own scent of Cashmere)
ABSOLUTELY NO chemicals, NO synthetics, NO sulfates, NO parabens, NO alcohol, NO petroleum, NO glycerin.
Never tested on animals - Handcrafted & Made To Order
All of our products are made by hand in small batches at the point of purchase.  Products are not premade (except for our infused oils).  This is to guarantee freshness.  As a result shipping usually takes 1-3 business days after the order is placed.  However larger orders can take as long as 5 business days depending on quantity, size, etc.  
Butters and creams can melt during shipping especially in warm weather.  If your butter arrives melted simply place it in the fridge for a few minutes to solidify.  While it might not be as fluffy as when it left our store it will still possess the same benefits.