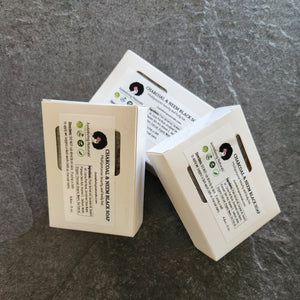 Description
This is a multiuse bar. Use it to cleanse your face or body. 
From the country of Ghana, this versatile soap is made from simple, natural ingredients and is safe for most skin types and also contain antibacterial properties.  African Black Soap is known for soothing irritation, reducing hyperpigmentation while helping to fight acne.  
Neem is this wonderful herb which has many health benefits including clearing up, acne, black heads and whiteheads. This herb has been known to have anti-aging properties. Neem is also great for those suffering with oily skin as it balances the skins oil production.
Charcoal is a powerful detoxifier. It works by pulling toxin from the skin leading to smoother, brighter skin. Charcoal also perfect for those with oily skin as it reduces oil production, helping with acne issues. 
Special Care Info
Be careful NOT to use this soap directly on your skin.  Our Black soap is RAW & UNREFINED which means it may contain small bits of ash or husk which can damage/scrape the skin if applied directly.  Please lather bar in hand or with a wash rag before using.
Do not store in water.  This is a soft soap and it will melt much faster than traditional soap.  Our wooden soap tray would work best to keep water away from your soap so it last long. If you do store in a regular soap dish make sure to drain away any excess water and let air dry.
Ingredients
Palm Kernel oil, Coconut oil, Stearin oil, Cocoa Pod Husk, Unrefined Shea Butter, Plantain Skin Ash, Vitamin E, Sodium, Water, Organic Charcoal, Organic Neem, Tea Tree Oil.
Disclaimer
The statements and products have not been evaluated by the United States Food and Drug Administration (FDA). These products are not intended to treat, cure or prevent any disease.

Please feel free to consult your doctor or physician before using our products. Read the ingredients carefully as some products may contain oils made from nuts, so if you have a nut allergy please specify which oils to remove from your ingredients during the check out process. PLEASE DO YOUR RESEARCH.