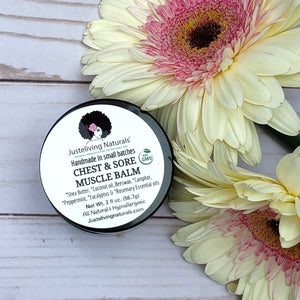 What if I told you there's an all natural way to get relieve from congestion and sinus pressure without introducing harmful chemicals to your body?  What if I also said this same product can also aid in relieving your sore muscles? 
Our Chest & Sore Muscle Balm is made with all natural ingredients that are potent yet soothing. The Camphor, Eucalyptus and Peppermint Essential oils will relieve the sinus congestion and stuffiness helping to open nasal passages and promoting full breathing.  These essential oils are very penetrating so they work well to relieve stiff, sore muscles and joints by soothing tension and reducing spasms. *Only pure Organic essential oils are used in our products.
Rosemary and Eucalyptus Essential oils are anti-inflammatory aiding in the relief of swollen sinuses and sore throat while reducing stress levels and fatigue.
Throw out your over the counter vapor rubs and make our non-toxic, all natural Chest & Sore Muscle Balm is a staple in your medicine cabinet. 
*This product comes in a thick amber-colored glass jar and has a natural shelf life of 18 months after opening. Please store in a dry, room temperature area and away from direct sunlight.
ABSOLUTELY NO chemicals, NO synthetics, NO sulfates, NO parabens, NO alcohol, NO petroleum, NO glycerin.
Never tested on animals - Handcrafted & Made To Order
Rub a small amount in the palm of your hands or between your fingers to melt the balm then apply to your chest, back and neck area.  You can place a warm towel, heated blanket or hot water bottle to allow the ingredients to penetrate deeper.
Organic Raw Shea Butter, Organic Raw Coconut oil, Organic Beeswax, Organic Peppermint Essential oil, Organic Eucalyptus Essential oil, Organic Camphor Essential oil, Organic Rosemary Essential oil.
This product is not safe for children under 2 years old.  Please select our child-friendly option if you intend to use this on a child under 2.
All of our products are made by hand in small batches at the point of purchase.  Products are not premade (except for our infused oils).  This is to guarantee freshness.  As a result shipping usually takes 1-3 business days after the order is placed.  However larger orders can take as long as 5 business days depending on quantity, size, etc.  
The statements and products have not been evaluated by the United States Food and Drug Administration (FDA). These products are not intended to treat, cure or prevent any disease.

Please feel free to consult your doctor or physician before using our products. Read the ingredients carefully as some products may contain oils made from nuts, so if you have a nut allergy please specify which oils to remove from your ingredients during the check out process. PLEASE DO YOUR RESEARCH.