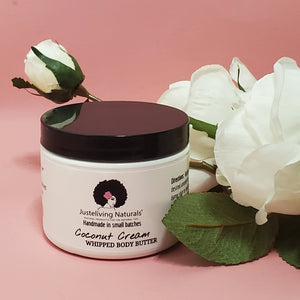 This creamy, fluffy, whipped to perfection body butter is just what you need to keep your skin moisturized especially during the winter months.  This a light-weight body butter that melts into your skin leaving it soft and supple.
Shea butter, especially raw, unrefined Shea, is very moisturizing for your skin and hair due to its high fatty acids content.  It's also super nourishing with vitamins A, E & F.  Shea butter anti-inflammatory with healing properties, and it won't clog your pores.  
If you a re looking for a tropical scent that is not too strong but still makes you feel like you are under a coconut tree then look no further. Our Coconut Cream is a customer favorite because it's sweet and fruity yet subtle. 

This rich body butter is lightly whipped with simple ingredients that pack a whole lot of punch.
ABSOLUTELY NO chemicals, NO synthetics, NO sulfates, NO parabens, NO alcohol, NO petroleum, NO glycerin.
Never tested on animals - Handcrafted & Made To Order
Organic Raw Shea Butter, Grapeseed Oil, Sweet Almond Oil, Vitamin E, Natural Fragrance.
Due to the nature of our whipped butters, it might melt during transit especially in the warmer months. To minimize this please use a shipping address where the mail is delivered inside if at all possible. Should your whipped body butter melt, simply place it in the refrigerator to solidify. It will not regain its original whipped texture but it will maintain its scent and moisturizing properties. Please see our shipping policies for further information.
The statements and products have not been evaluated by the United States Food and Drug Administration (FDA). These products are not intended to treat, cure or prevent any disease.

Please feel free to consult your doctor or physician before using our products. Read the ingredients carefully as some products may contain oils made from nuts, so if you have a nut allergy please specify which oils to remove from your ingredients during the check out process. PLEASE DO YOUR RESEARCH.
Good for legs or dry skin
Usually My legs are dry at times, even after I use lotions, I couldn't find the right lotion but, I got this at the Health Expo couple Sundays ago. I am a very happy Customer. It took all the dryness away. I feel confident wearing my sandals, no more embassing ashy legs. Thank you! This is a must have!
Love this 💕
This is a must have. I love the light scent and the texture of the body butter.
Thank you so much for your feedback. We're so happy you love our body butters as much as we do.