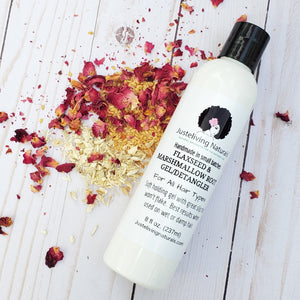 This wonderful leave in conditioner has tons of slip to make detangling a breeze. It gives your hair shine and a gentle hold providing fantastic definition for your waves and curls. Use it to lay down your edges for that perfect updo or flat twist. With the added ingredients of Aloe Vera, Olive Oil, Sweet Almond Oil and Apricot Kernel Oil, your hair will be soft and manageable.

Flaxseeds are extremely beneficial for your hair. They are packed with protein, calcium, zinc, magnesium, iron and omega 3 fatty acids, which are necessary for hair growth. Flaxseeds help to prevent dandruff and hair loss.

Marshmallow Root is rich in protein and vitamins that are nourishing to your hair and that promote hair growth.  However this root is also great for the treatment of eczema, psoriasis and dry scalp.

Try replacing your eco-styling gel or traditional gel with this all natural substitute and feel the difference. Flakes and crush, be gone!
ABSOLUTELY NO chemicals, NO synthetics, NO sulfates, NO parabens, NO alcohol, NO petroleum, NO glycerin.
Never tested on animals - Handcrafted & Made To Order
Distilled Water, Organic Flaxseeds, Organic Marshmallow Root, Aloe Vera, Organic Rose Flowers, Olive Oil, Grapeseed oil, Sweet Almond oil, Apricot Kernel Oil, Vitamin E, Essential Oils.
The statements and products have not been evaluated by the United States Food and Drug Administration (FDA). These products are not intended to treat, cure or prevent any disease.

Please feel free to consult your doctor or physician before using our products. Read the ingredients carefully as some products may contain oils made from nuts, so if you have a nut allergy please specify which oils to remove from your ingredients during the check out process. PLEASE DO YOUR RESEARCH.
Flaxseed Marshmallow Root Detangler
I was disappointed with this product. I wanted something I could use as a detangler instead of conditioner but there was no slip even with my hair very wet. I would like a refund if possible
Love love this gel
I've been looking for a natural gel for my low porosity type 4 hair. This gel works wonders! My daughter has very thick hair, and this gel kept her buns up perfectly! Definitely will purchase again!!
Efficient Delivery - check; Superb and Strategically Packaged - check; Outstanding Customer Service from the Owner - check; Customized for my Accommodations - check; Awesome Ingredients for the Hair - check; Ecstatic and Grateful Customer - check.
I recently had trouble with the brand CurlMix because they changed their formula making the product no longer work for me. I had been struggling for weeks with terrible wash n go's, until I found this product on Etsy. Amazing results so far! Great results, and my hair is doing well- thank you!
This Gel Does what it is supposed to
I used this Gel for my Wash n Go's and not only does it help activate my curls, it holds my curls in place for a couple of days! I love the smell, and the fact that it is genuinely all-natural. All of the ingredients are helpful towards healthy hair growth, and no harmful chemicals. I love that! That is so hard to find. I would recommend a natural preservative, if possible, but I suppose you can get it added in if it's custom made. Love this product!😀 ❤