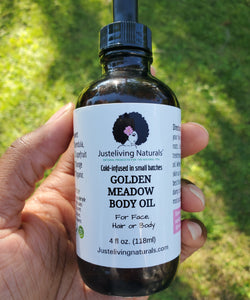 This our most gentle infused oil yet. Safe for all ages, even babies, our Golden Meadow Body Oil is solar-infused with Organic Calendula and Organic Chamomile which has left it with a rich golden color. This lightweight oil is gentle enough for use on your face. It is non-comedogenic, anti-inflammatory and will leave your skin hydrated and calm without any greasy residue.
USES:
Pregnant bellies - Help 

boost skins elasticity and impair the appearance of stretch marks on your pregnant bellies

Babies - gentle, calming, soothing and moisturizing for your little one from head to toes

Skin & hair - Calms and nourishes. Reduces signs of aging

Eczema & dermatitis relief

Massage oil 
Calendula possesses anti-inflammatory, antifungal and antimicrobial benefits.  It may be effective in treating diaper rash, wounds and other skin conditions. Calendula contains antioxidants like carotenoids and flavonoids which have been shown to help wounds heal faster. It is also known for soothing symptoms of eczema, dermatitis, and dandruff while promoting collagen production and glowing skin. 
Chamomile is rich in powerful antioxidants like polyphenols and phytochemicals. These antioxidants making this herb an effective remedy for acne reducing redness and inflammation.  Chamomile also helps to reduce signs of aging by protecting the skin from free radicals while accelerating cell turnover.
Sweet Almond Oil, Organic Jojoba oil, Organic Calendula, Organic Chamomile, Organic Grapefruit Essential Oil (optional), Organic Orange Essential Oil (optional). 
The statements and products have not been evaluated by the United States Food and Drug Administration (FDA). These products are not intended to treat, cure or prevent any disease.

Please feel free to consult your doctor or physician before using our products. Read the ingredients carefully as some products may contain oils made from nuts, so if you have a nut allergy please specify which oils to remove from your ingredients during the check out process. PLEASE DO YOUR RESEARCH.