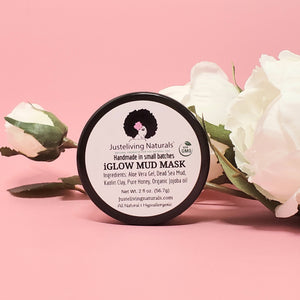 Help balance your skin tone with our iGlow Mud Mask.  This mask will help to dry out pimples by pulling toxins from the skin and promote cell new skin cells to grow revealing healthy skin and a youthful glow.  Safe for all skin types, the iGlow Mud Mask is also great when used as a hair mask.  You heard me. Your face mask works great as a hair mask as well promoting a healthy scalp and healthy hair growth.  That makes this a 2 for 1.
Taken from the Dead Sea in the Middle East, Dead Sea Mud is widely known for being a restorative mud and the most mineral rich.  It doesn't completely dry out your skin but instead nourishes it alleviating symptoms of eczema and psoriasis. Dead Sea Mud is an excellent acne fighter as it detoxifies and exfoliates pulling away impurities and rough, dry skin to reveal fresh, radiant skin.  This mud has a rich concentration of nourishing minerals such as magnesium, calcium, potassium, bromide, zinc, and iron.
Kaolin clay is one of the more gentle yet effective clay cleanser which makes it perfect for those with sensitive skin.  It cleans, purifies and detoxifies the skin removing dirt, pollution and germs.  This clay also reduces oiliness but without drying it out. Kaolin  clay is a hydrated aluminum silicate crystalline mineral originating from below the earth's surface. It is rich in silica and has a neutral pH level. 
ABSOLUTELY NO chemicals, NO synthetics, NO sulfates, NO parabens, NO alcohol, NO petroleum, NO glycerin.
Never tested on animals - Handcrafted & Made To Order
*Please keep refrigerated.  We do not use preservatives in our products so it will go bad in less than a week if not refrigerated. Discard unused portion after 2 months.
Dead Sea Mud, Kaolin Clay, Aloe Vera, Pure Honey, Organic Jojoba Oil.
The statements and products have not been evaluated by the United States Food and Drug Administration (FDA). These products are not intended to treat, cure or prevent any disease.

Please feel free to consult your doctor or physician before using our products. Read the ingredients carefully as some products may contain oils made from nuts, so if you have a nut allergy please specify which oils to remove from your ingredients during the check out process. PLEASE DO YOUR RESEARCH.