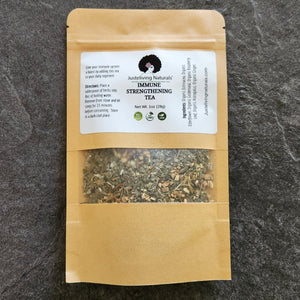 Fortify your immune system with a daily cup of our Immune Strengthening Tea blend.  This tea is packed with nutrient and antioxidant rich organic herbs that will help keep you protected during this cold and flu season.
Elderflower is said to contain high levels of Vitamin C.  It also is packed with nutrients and antioxidant properties such as quercetin  and isoquercitrin which help to reduce free radicals in the body.  It also contains bio-flavonoid compounds such as flavonols. Elderflower is anti-inflammatory and acts acts as a natural antihistamine.  
Astragalus is known to support and protect the immune system by helping you avoid colds and upper respiratory infections. It is also great to use to combat the allergy symptoms. Astragalus is anti-inflammatory and anti-bacterial.  It is a natural diuretic and is known to lower your blood pressure so those with hypertension please consult your physician before purchasing this tea blend.
Organic Echinacea, Organic Elderflower, Organic Goldenseal leaf, Organic Raspberry Leaf, Organic Astragalus Root, Organic Ginger Root.
These statements and product have not been evaluated by the United States Food and Drug Administration (FDA). This product is not intended to treat, cure or prevent any disease.
Please consult your doctor or physician before using this product. Read the ingredients carefully for possible allergic reaction or medicine interaction. PLEASE DO YOUR RESEARCH.