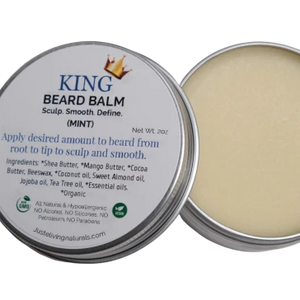 Not as thick as wax, our beard balm is strong enough to provide a soft hold for your unruly beard hairs nut gentle enough to moisturize and soften.  The essential oils used are the perfect combination to help stimulate hair growth so your beard over time comes in more full. 
Our KING Beard Balm is the perfect tool to add to your grooming kit.
ABSOLUTELY NO chemicals, NO synthetics, NO sulfates, NO parabens, NO alcohol, NO petroleum, NO glycerin.
Never tested on animals - Handcrafted & Made To Order
Organic Raw Shea Butter, Organic Raw Mango Butter, Organic Cocoa Butter, Organic Beeswax, Organic Raw Coconut oil, Sweet Almond oil, Organic Unfiltered Jojoba oil, Tea Tree oil, Essential oils.
The statements and products have not been evaluated by the United States Food and Drug Administration (FDA). These products are not intended to treat, cure or prevent any disease.

Please feel free to consult your doctor or physician before using our products. Read the ingredients carefully as some products may contain oils made from nuts, so if you have a nut allergy please specify which oils to remove from your ingredients during the check out process. PLEASE DO YOUR RESEARCH.