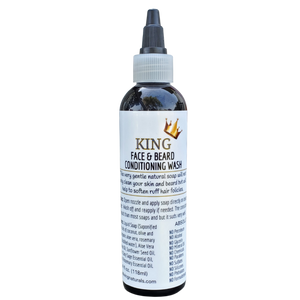 This 100% natural, all in one face and beard wash is gentle yet effective at cleaning the skin and hair without drying it out. The conditioner ingredients contained in this wash makes it a perfect 2-in-1 cleanser. So that means no more dry and itchy beard for you especially when coupled with our KING Hair & Beard Growth Oil or KING Beard Oil.
This is not your typical shampoo. It is much more liquid in consistency which is why it comes with a twist cap. Not to worry, it lathers exceptionally well. Not to mention it's super gentle for those with sensitive skin. 
Liquid Soap (Saponified coconut, rosemary extract, olive & jojoba, organic aloe vera, distilled water), Sunflower oil, Shea oil, Aloe Vera Juice, Organic Rosemary Essential Oil, Organic Clary Sage Essential Oil.
The statements and products have not been evaluated by the United States Food and Drug Administration (FDA). These products are not intended to treat, cure or prevent any disease.

Please feel free to consult your doctor or physician before using our products. Read the ingredients carefully as some products may contain oils made from nuts, so if you have a nut allergy please specify which oils to remove from your ingredients during the check out process. PLEASE DO YOUR RESEARCH.