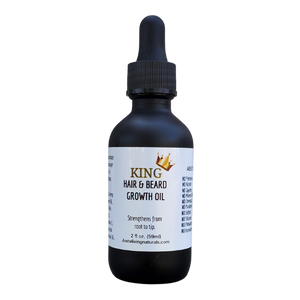 This perfect blend of herbs, organic essential and natural oils will have your hair stronger than ever.  Do you have a patch in your beard that refuse to fill in?  Are you experiencing thinning hair?  This is the oil for you.
Hemp Seed Oil lubricates the hair shaft and prevents hair breakage by allowing the hair strands to be more elastic.  This oil helps to revive damaged hair, add shine, seals in moisture, promotes hair growth and thickens hair.
Moringa is rich in Zinc, Vitamin A, and Iron which are all essential for healthy hair growth.  Moringa helps in providing oxygen to the scalp and aids in hair elasticity thereby reducing hair breakage.
Castor Oil, Hemp Seed Oil, Infused Rice Bran Oil (Rice Bran Oil, Organic Aloe Vera Leaf, Organic Moringa), Vitamin E, Organic Rosemary Essential Oil, Organic Sage Essential Oil.
Apply 1-3 times a week to desired area and massage for at least 15 seconds to stimulate blood flow and aid in product absorption. 
The statements and products have not been evaluated by the United States Food and Drug Administration (FDA). These products are not intended to treat, cure or prevent any disease.

Please feel free to consult your doctor or physician before using our products. Read the ingredients carefully as some products may contain oils made from nuts, so if you have a nut allergy please specify which oils to remove from your ingredients during the check out process. PLEASE DO YOUR RESEARCH.