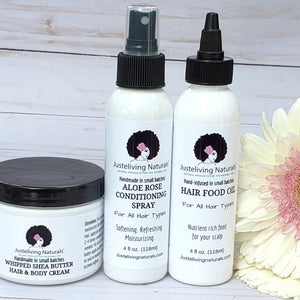 *For 2C - 4C Hair Types
Looking for the perfect products to add moisture and definition to your hair leaving it softer longer?  Are you searching to find the right combination of products to help soften your dry hair and give it a healthy sheen?  We did all the thinking for you and came up with the perfect combo for you!
The three products in the Moisture & Definition Combo have been handpicked to give you all you need to keep your hair moisturizes even in very humid weather.  The Whipped Shea Butter Hair & Body Cream is heavier compared to our Moisturich Conditioning Cream.  It seals in moisture and defines twists outs, braid outs and bantu knot outs. Ingredients in this combo include aloe vera and beet sugar extract couples with raw unrefined shea butter and nourishing oils.  Visit their product pages to see their full list of ingredients.  Over time you will notice your hair getting softer, healthier with a natural shine.  
This set contains the following products:
Whipped Shea Butter Hair & Body Cream (Small 4oz, Large 8oz)
Hair Food (4oz) or Head To Toe Natural Oil Blend (Small 4oz, Large 8oz)
Aloe Rose Conditioning Spray 

(Small 4oz, Large 8oz)
Make this a complete wash day arsenal by adding or Grow & Glow Hair Pudding or Avocado & Bentonite Detox Hair Mask.
For extra definition use our Flaxseed & Marshmallow Root Gel/Detangler with this combo.
*Save big when you purchase these products together as a set instead of individually.
ABSOLUTELY NO chemicals, NO synthetics, NO sulfates, NO parabens, NO alcohol, NO petroleum, NO glycerin.
Never tested on animals - Handcrafted & Made To Order
All of our products are made by hand in small batches at the point of purchase.  Products are not premade (except for our infused oils).  This is to guarantee freshness.  As a result processing usually takes 1-3 business days after the order is placed.  However larger orders can take as long as 5 business days depending on quantity, size, etc.  
Butters and creams can melt during shipping especially in warm weather.  If your butter arrives melted simply place it in the fridge for a few minutes to solidify.  While it might not be as fluffy as when it left our store it will still possess the same benefits.
The statements and products have not been evaluated by the United States Food and Drug Administration (FDA). These products are not intended to treat, cure or prevent any disease.

Please feel free to consult your doctor or physician before using our products. Read the ingredients carefully as some products may contain oils made from nuts, so if you have a nut allergy please specify which oils to remove from your ingredients during the check out process. PLEASE DO YOUR RESEARCH.