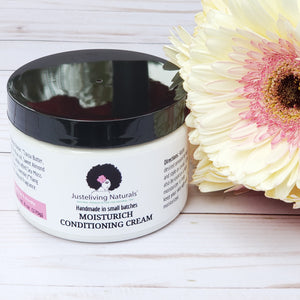 *Now with Organic Baobab oil. Works best on 2C - 4A hair types. 
Moisturich Conditioning Cream is a light weight butter cream that is light enough to not weigh your hair down but still rich in texture and nutrients. Most of all it contains NO Coconut oil for those with protein sensitivities.
Our conditioning cream is packed with wildcrafted Caribbean sea moss and aloe vera to make it a power-packed, moisture rich cream, hence its name. This light weight butter cream is just what your hair needs in these dry months ahead. It's light enough to not weigh your hair down but also rich enough in offer nourishing ingredients and boost shine. Best of all, it contains NO Coconut oil which makes it perfect for those with protein sensitivities.
This fluffy cream is handmade with wholesome, nutrient rich and moisturizing ingredients such as wildcrafted sea moss and aloe vera making it a power-packed moisturizer.

Sea Moss promotes healthy, shiny hair by providing important hair strengthening and conditioning nutrients such as iron, zinc and collagen. These are just a few of the 92 minerals and nutrients it contains. Aloe Vera helps to balance your hair pH offering a softening effect on your hair strands.
Baobab oil is naturally rich in omega fatty acids 3, 6 and 9.  This oil helps to moisturize and strengthen your dry, brittle hair.  Baobab oil isn't high in protein which makes it perfect for regular use without the worry of protein build up.  This oil also works perfectly for those with low-porosity hair types.

Give your hair the shine boost its been looking for with the four moisturizing butters shea, mango, cocoa and kokum found in this cream. They will melt into your strands leaving them softer and able to retain moisture for longer. Don't take my word for it. Try it and see for yourself.
ABSOLUTELY NO chemicals, NO synthetics, NO sulfates, NO parabens, NO alcohol, NO petroleum, NO glycerin.
Never tested on animals - Handcrafted & Made To Order
This scent of this butter is light, created from a blend of essential oils and natural scented oils. The essential oils are used not just for their scent and great benefits for hair and skin but also because they offer some preservative properties for the cream.
Use this cream with our Head To Toe Natural Oil Blend as well as our Aloe Vera Conditioning Hair Spray to create a complete hair care set.
*This product is safe for even your little ones. All our products are alcohol, petroleum, chemical, silicone, parabens and preservative free. The shelf life for this particular product is up to 2 months if kept in cool conditions. Store in the fridge to last for longer.
Organic Raw Shea Butter, Organic Raw Cocoa Butter, Organic Raw Mango Butter, Organic Raw Kokum Butter, Wildcrafted Sea Moss Gel, Aloe Vera Gel, Sweet Almond oil, Rice Bran oil, Avocado oil, Pumpkin Seed oil, Organic Baobab oil, Beet Sugar Extract, Distilled Water, Vitamin E, Radish Root Ferment Filtrate (natural preservative), Essential oils, Natural Fragrance.
All of our products are made by hand in small batches at the point of purchase.  Products are not premade (except for our infused oils).  This is to guarantee freshness.  As a result processing usually takes 1-3 business days after the order is placed.  However larger orders can take as long as 5 business days depending on quantity, size, etc.  
Butters and creams can melt during shipping especially in warm weather.  If your butter arrives melted simply place it in the fridge for a few minutes to solidify.  While it might not be as fluffy as when it left our store it will still possess the same benefits.
The statements and products have not been evaluated by the United States Food and Drug Administration (FDA). These products are not intended to treat, cure or prevent any disease.

Please feel free to consult your doctor or physician before using our products. Read the ingredients carefully as some products may contain oils made from nuts, so if you have a nut allergy please specify which oils to remove from your ingredients during the check out process. PLEASE DO YOUR RESEARCH.
Amazing Products!
Such the difference my hair needed. Very fluffy and moisturizing. You just can't go wrong with this product!!
Worked wonders for my 4c hair
This cream is PERFECT as my hair is prone to build up due to it being low porosity. The cream melted into my hair and kept it very soft and moisturized. I love that it is a light cream and doesn't weigh my hair down. My new holy grail!!!
Moisture Delivered
Thank you soooo much for this conditioning cream. I ordered mines fragrance free and it came customized just for me! I use this cream in a 7-step moisturizing process I developed for myself. I'm a customer for life!