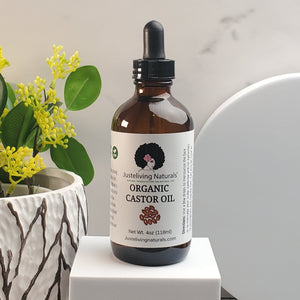 Castor oil is a multipurpose vegetable oil that is made by extracting oil from the seeds of the Ricinus communis plant otherwise called castor beans.

Our Organic Castor Oil is unrefined and certified organic so you can rest assured you are getting the highest quality oil.  It soothes and lubricates the skin. It is a natural humectant that attracts moisture to the skin and hair shaft. Castor oil is rich in ricin oleic acid, a monounsaturated fatty acid which helps to reduce water loss through the outer layer of the skin. It is considered an antioxidant that is also anti-inflammatory and antimicrobial.
Fighting skin infections
Stimulating hair growth
Reducing joint pain
Promoting wound healing
Cleaning and storing dentures
and more
Warm and apply a small amount on a towel and place that towel in the area of your liver to aid in detoxifying the organ.  Keep the towel secure for 30 minutes to an hour before removing. Do this every day to see amazing results.
Organic Unrefined Castor Oil 
The statements and products have not been evaluated by the United States Food and Drug Administration (FDA). These products are not intended to treat, cure or prevent any disease.
Before utilizing our products, we encourage you to consult with your doctor or physician. Please carefully examine the ingredients as certain products might contain nut-derived oils. If you have a nut allergy, kindly specify which oils to exclude during checkout. PLEASE DO YOUR OWN RESEARCH.