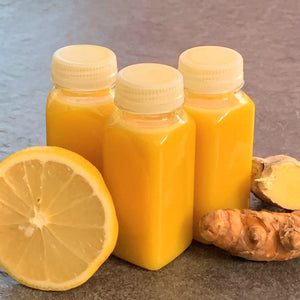 *The variety pack contains 3 bottles. Select any 3 combination.
The immune system is important to the health of the body.  During the cold and flu season it is important to give your immune system the help it needs to fight more effectively. 
The powerful ingredients in this immune boosting shot boaster powerful antioxidants that are great defense against the cold and flu virus.

Turmeric has been deemed the most powerful herb on the planet. This herb contains  curcumin which is used in Ayurvedic medicine to manage pain, swelling, digestion, cholesterol, blood sugar and more.  This compound contains antioxidant, anti-inflammatory, antibacterial properties. It is also rich in Vitamin C. The curcumin in Turmeric is activated when combined with Piperine, the bioactive compound found in black pepper.
Ginger helps to reduce inflammation and is packed with some powerful antioxidants such as Gingerol, the main bioactive compound. Gingerol has anti-inflammatory and antioxidant effects making it a perfect addition our immune boosting shot.
All Natural.  Made Fresh Using Organic Ingredients. 
Organic Fresh Turmeric Root, Organic Fresh Ginger Root, Organic Fresh Lemon (with rind), Organic Fresh Orange, Organic Black Pepper, optional additional ingredients.
This product is made to order with fresh ingredients and is therefore intended to be consumed within 48-72 hours.  It will be shipped frozen with an ice pack but might arrive melted depending on travel distance.  Please freeze if you do not intend to consume the day it arrives.  Otherwise please refrigerate upon arrival.
These statements and product have not been evaluated by the United States Food and Drug Administration (FDA). This product is not intended to treat, cure or prevent any disease.
Please consult your doctor or physician before using this product. Read the ingredients carefully for possible allergic reaction or medicine interaction. PLEASE DO YOUR RESEARCH.
Organic Turmeric Ginger Immune Boosting Shot