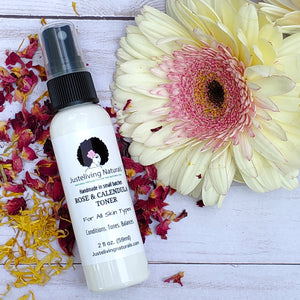 This simple and gentle face toner is perfectly formulated for sensitive skin.  Whatever your skin type this toner works great for balancing out your skin tone while conditioning your skin. 
*This is product is also safe to be used to refresh your curls and waves.
ABSOLUTELY NO chemicals, NO synthetics, NO sulfates, NO parabens, NO alcohol, NO petroleum, NO glycerin.
Never tested on animals - Handcrafted & Made To Order
This is a perishable item. Please keep refrigerated.
Distilled Water, Organic Rose Petals, Organic Calendula, Organic Essential oil.
The statements and products have not been evaluated by the United States Food and Drug Administration (FDA). These products are not intended to treat, cure or prevent any disease.

Please feel free to consult your doctor or physician before using our products. Read the ingredients carefully as some products may contain oils made from nuts, so if you have a nut allergy please specify which oils to remove from your ingredients during the check out process. PLEASE DO YOUR RESEARCH.
Love
Love the smell, love the feel, love how my skin has looked after using it every morning for about a month now