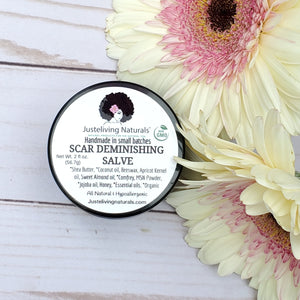 Our Scar Diminishing Salve is made with all natural, anti-inflammatory ingredients that are known for their healing properties. Ingredients such as lavender, rosemary cedarwood, comfrey, coconut oil and shea butter help to reduce redness and promote healing of minor cuts, scraps and scars. Smooth on daily and for faster for results.
ABSOLUTELY NO chemicals, NO synthetics, NO sulfates, NO parabens, NO alcohol, NO petroleum, NO glycerin.
Never tested on animals - Handcrafted & Made To Order
Unrefined Raw Shea Butter, Organic Cold-Pressed Coconut oil, Beeswax, Apricot Kernel oil, Sweet Almond oil, Organic Cold-Pressed Jojoba oil, Honey, Organic Comfrey, MSN Powder, Organic Essential oils.
All of our products are made by hand in small batches at the point of purchase.  Products are not premade (except for our infused oils).  This is to guarantee freshness.  As a result processing usually takes 1-3 business days after the order is placed.  However larger orders can take as long as 5 business days depending on quantity, size, etc.  
The statements and products have not been evaluated by the United States Food and Drug Administration (FDA). These products are not intended to treat, cure or prevent any disease.

Please feel free to consult your doctor or physician before using our products. Read the ingredients carefully as some products may contain oils made from nuts, so if you have a nut allergy please specify which oils to remove from your ingredients during the check out process. PLEASE DO YOUR RESEARCH.