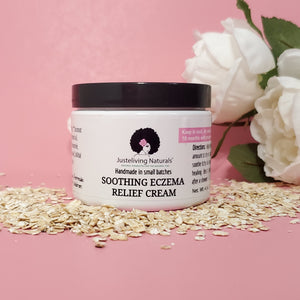 *Non-greasy. Now with Black seed oil
Let the healing ingredients found in nature help relieve your eczema symptoms. Our Soothing Eczema Relief Cream is safe, non-greasy, toxic free, additive free, preservative free and great for use on eczema, dermatitis, or very dry, rough skin. If you are experiencing dry, itchy, irritated skin, embarrassing scars that keep you from wearing shorts or short sleeve shirts, then this product might be for you.  Our eczema cream is infused with healing herbs along with other wonderful ingredients that are great for the sensitive skin.
Unrefined Shea Butter is very moisturizing for your skin and hair due to its high fatty acids content.  It's super nourishing and rich in Vitamins A, D, E, F and K.  Shea butter is anti-inflammatory with healing properties, and it doesn't clog your pores.  Vitamin A moisturizes and protects the skin.  Shea Butter is also very high in essential fatty acids (oleic, stearic, linoleic, and palmitic acid), more than any other vegetable butter. these fatty acids offer moisturizing, softening, and anti-inflammatory properties. 
Colloidal Oatmeal helps relieve irritation, soothe itchy skin and normalize the pH levels in the skin. It also helps to balance the oils in this formula allowing for a smooth consistency that is non-greasy.
Coconut oil has antibacterial, antifungal, antioxidant and antimicrobial properties.  It is soothing to the skin and can help reduce itchy skin flareups. 
Chamomile helps to fade spots, eliminate acne scars and fight breakouts due to its anti-inflammatory, antiseptic and antioxidant properties that help to soothe the skin, reducing redness and blemishes as well as relieve skin irritations like eczema, psoriasis, and rosacea.
Comfrey is a wonderful herb sometimes used on the skin to treat wounds and reduce inflammation. Comfrey roots and leaves contain allantoin, a substance that helps skin cells regenerate forming new skin.
Black seed oil is made from Nigella sativa seeds, more commonly known as black cumin. It is widely known for its anti-inflammatory and antioxidant properties. Black seed oil aids in wound healing by increasing skin cell regeneration.
ABSOLUTELY NO chemicals, NO synthetics, NO sulfates, NO parabens, NO alcohol, NO petroleum, NO glycerin.
Never tested on animals - Handcrafted & Made To Order
Raw Organic Shea Butter, Organic Cocoa Butter, Raw Organic Coconut oil, Infused Sweet Almond oil (Sweet Almond oil, Organic Comfrey Root, Organic Calendula, Organic Bilberry, Organic Chamomile, Organic Marshmallow Root, Organic Echinacea, Organic Oatstraw), Black seed oil, Colloidal Oatmeal, Vitamin E, Organic Lavender Essential Oil.
*Baby formula does not contain Comfrey root or Bilberry.
Due to the nature of our whipped butters, it might melt during transit especially in the warmer months. To minimize this please use a shipping address where the mail is delivered inside if at all possible. Should your whipped body butter melt, simply place it in the refrigerator to solidify. It will not regain its original whipped texture but it will maintain its scent and moisturizing properties. Please see our shipping policies for further information.
The statements and products have not been evaluated by the United States Food and Drug Administration (FDA). These products are not intended to treat, cure or prevent any disease.

Please feel free to consult your doctor or physician before using our products. Read the ingredients carefully as some products may contain oils made from nuts, so if you have a nut allergy please specify which oils to remove from your ingredients during the check out process. PLEASE DO YOUR RESEARCH.