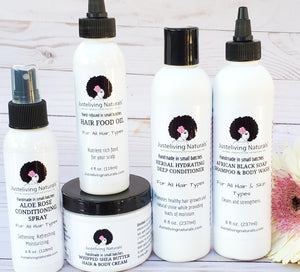 *For 2C - 4C Hair Types
Our Full Wash Day Package is complete with shampoo, conditioner, oil, cream and spray.

Visit the product pages of each product in this package to see their full list of details and ingredients.  Over time you will notice your hair getting softer, healthier with a natural shine.  
This set contains the following products:
Add the Grow & Glow Hair Pudding or Avocado & Bentonite Detox Hair Mask to your full wash day arsenal.
For extra definition use our Flaxseed & Marshmallow Root Gel/Detangler with this combo.
*Save big when you purchase these products together as a set instead of individually.
ABSOLUTELY NO chemicals, NO synthetics, NO sulfates, NO parabens, NO alcohol, NO petroleum, NO glycerin.
Never tested on animals - Handcrafted & Made To Order
All of our products are made by hand in small batches at the point of purchase.  Products are not premade (except for our infused oils).  This is to guarantee freshness.  As a result processing usually takes 1-3 business days after the order is placed.  However larger orders can take as long as 5 business days depending on quantity, size, etc.  
Butters and creams can melt during shipping especially in warm weather.  If your butter arrives melted simply place it in the fridge for a few minutes to solidify.  While it might not be as fluffy as when it left our store it will still possess the same benefits.
The statements and products have not been evaluated by the United States Food and Drug Administration (FDA). These products are not intended to treat, cure or prevent any disease.

Please feel free to consult your doctor or physician before using our products. Read the ingredients carefully as some products may contain oils made from nuts, so if you have a nut allergy please specify which oils to remove from your ingredients during the check out process. PLEASE DO YOUR RESEARCH.
Great Customer Service is an Understatement
I placed a large order during the labor day sale and received a notification that my package was being prepared for delivery. Soon after receiving that message I received a text message from Sherene of Justliving Naturals informing me that my packages delivery would be delayed due to the holiday and the high number of order. To insure that I wouldn't have to wait to long she offered to personally deliver the package to me the next day because she would be in my area. The following day on her way into my area she had car issues and had to call for road side assistance. Even with that complications she persevered
and instead of just mailing out my delivery and having me wait she rescheduled until her car issues were resolved two days later . On that Sunday she hand delivered her products in person and even met my mother. I honestly appreciate how accommodating, humble and sincere she was. Thank you again for making my transaction with Justliving Naturals so interpersonal and positive!
New hassle free / tear free wash day routine! Yeah!
I thought I could never use shampoo again I'm life because it always stripped my have and removed my curl pattern of my 4 c hair and my daughters 3c hair. But clearly I have found a new staple fir our cabinet! The African black soap shampoo is like nothing I have seen or used before. I also like it for our bodies. Now the whole family is fighting over the same bottle which is ok for now because a little bit goes a long way but I will certainly need to buy more soon. I usually have to use the full max hydration method which is long and cumbersome and requires lots of ingredients. I think that if I replace the flaxseed gel in my fridge in this package I will have a solid wash n go routine that will rival max hydration without all the hassle and ingredient preparation. I plan on sending these products to all my natural friends who have been in need of quality no hassle products like these! Side note- this was the first no tears routine for my youngest because we typically Max hydrate her hair for wash day. 5 steps! This is going to save our relationship!