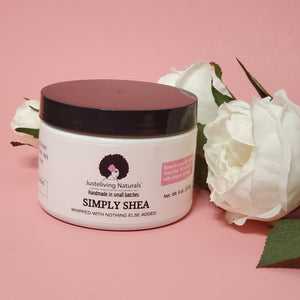 Raw Shea butter is a skin superfood. It comes from the fat extracted from the nut of the African shea nut tree also called the Karite tree.
Our Organic RAW Unrefined Ivory Shea Butter is hand-whipped to perfection using the no-heat method to preserve every bit of nutrient this decadent butter contains.
ONE INGREDIENT. Organic RAW Unrefined Ivory Shea Butter.
Unrefined/Raw shea butter has a natural color of ivory. However, processed shea butter will be more white than ivory in color so make sure you're getting the real deal.
Our African Shea Butter is imported from Ghana. It is ORGANIC, RAW and Ivory in color.  It also can have a slight nutty scent.  100% pure, 100% natural.
Uses:
Offers a mild UV protection of up to SPF6
Provides the skin with essential fatty acids and the nutrients necessary for collagen production
Helps to treatment dry skin, blemishes, scars and skin discoloration
Has a long history of medicinal use, such as in wound care and even with leprosy
Aid in healthy skin and hair care as an excellent moisturizer
Contains oleic, stearic, palmitic, and linolenic acids which helps to soften skin and hair
It's ability to help the skin remain more elasticity is one of the reasons using Shea butter can help in the reduction of wrinkles forming
Shea butter can help in your hair growth journey
Minimizes stretch marks during pregnancy 
Reduces skin inflammation and can potentially help avoid skin mutations
Helps to prevent or restore chapped lips
Safe for use on children of all ages
These are only some of the reasons RAW Shea Butter is the perfect fit for you and your family.