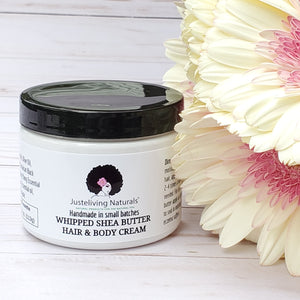 Our Whipped Shea Butter Hair & Body Cream will deliver essential nutrients, protein, fatty acids as well as Vitamins A & E to your hair while promoting hair growth.  Specially formulated to boost moisture and restore dry, dull hair without weighing it down, this curl defining mix, is perfect for all wavy to curly hair types.  Use also as a skin moisturizer to soften dry hands or smooth rough heels.  Great for relieving certain skin conditions such as eczema.
The yellow Shea butter used to make this cream gets its color from the extract of the Borututu Bark.  This wonderful, multipurpose extract gives the cream additional benefits as it is rich in antioxidants such as vitamin C, bioflavonoids and selenium which nourish the scalp promoting healthy hair growth.
For best results, rub your desired amount between the palms of your hands so the butter becomes more of a thick oily consistency before applying to your hair or body. This only takes a few seconds.
*This product may change form depending on temperature. During the cold winter months, the mix will be in its original state looking more like a thick whipped butter, however during the hot summer months it will be very soft and if left in the heat will become semi-liquid.  You can refrigerate to return it to a more firm consistency.
ABSOLUTELY NO chemicals, NO synthetics, NO sulfates, NO parabens, NO alcohol, NO petroleum, NO glycerin.
Never tested on animals - Handcrafted & Made To Order
Use as a skin moisturizer for softening those very dry hands or smoothing those very rough heels.  Helps to relieve certain skin conditions such as eczema.  A small amount can protect your hair from heat damage when using your styling tools.   Achieve more defined and healthy looking curls and waves.  It's perfect for your two strand twists, wash-n-go, flat twists or Bantu knots or any other style you can think of. 
For best results, spritz hair with water and/or our Aloe Vera Conditioning Spray especially for twists and bantu knots.  Our Whipped Shea Butter Hair Cream can also be used as an everyday hair dressing.  Simply apply, style and your out the door.  Amount to use depends on your hair type.  Thicker hair types usually need a bit more while very loose curls only need about a dim sized amount.

Raw Organic Shea Butter, Raw Organic Coconut oil, Olive oil, Sweet Almond oil, Apricot Kernel oil, Jamaican Black Castor oil, Tee Tree oil, Vitamin E, Organic Essential oils, Natural Fragrance oil.
All of our products are made by hand in small batches at the point of purchase.  Products are not premade (except for our infused oils).  This is to guarantee freshness.  As a result processing usually takes 1-3 business days after the order is placed.  However larger orders can take as long as 5 business days depending on quantity, size, etc.  
Butters and creams can melt during shipping especially in warm weather.  If your butter arrives melted simply place it in the fridge for a few minutes to solidify.  While it might not be as fluffy as when it left our store it will still possess the same benefits.
The statements and products have not been evaluated by the United States Food and Drug Administration (FDA). These products are not intended to treat, cure or prevent any disease.

Please feel free to consult your doctor or physician before using our products. Read the ingredients carefully as some products may contain oils made from nuts, so if you have a nut allergy please specify which oils to remove from your ingredients during the check out process. PLEASE DO YOUR RESEARCH.
Body Butter (Romance)
Wonderful product. Light, not heavy. Thank you...
Love my healthy hair!
This product is a must-have, and I must say that it arrived roughly three days after I placed my order. During my transition from perm to natural hair, I suffered from severe hair breakage. I bought this product in 2019 and it saved my hair. It aided in the growth of soft, healthy, and strong hair. I would recommend this moisturizer to anyone, especially if they are experiencing hair breakage from excessive dry hair. However, be mindful of how frequently you use it. After using it on a daily basis, it left residue in my hair. I would recommend following the directions on the label.