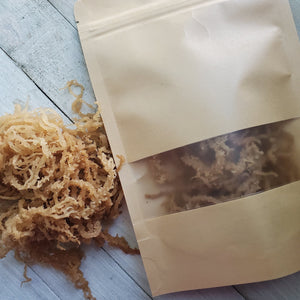 Would you like to make your own sea moss gel and are looking for high quality, raw sea moss? Look no further. Our wildcrafted golden sea moss is harvested from the waters around the Caribbean islands of Jamaica and Saint Lucia. Never farmed or grown in shallow waters. Dried but not dehydrated which means less prep time for you.
Note: All Sea Moss is not equal so make sure you are purchasing quality, wildcrafted sea moss, NOT POOL GROWN, to ensure you are getting the maximum benefits. 
Sea Moss, also called Irish Moss by some, is an awesome and versatile superfood.  This plant found at the bottom of the ocean is choke full of 92 of the 102 minerals the body needs each day.  You will see mark improvement in your overall health when you take sea moss regularly.
Sea/Irish Moss has a whole host of benefits which include:
*Antimicrobial
*Antifungal
*Antiviral
*Rich in Iodine which helps to balance thyroid hormones
*Great source of potassium chloride which helps in reducing inflammation in the body
*Boosts your immune system
*Helps with intestinal discomfort
*Aids in weight loss efforts
*Has been thought to relieve or even get rid of sore throat, chest coughs, Pneumonia and Tuberculosis and Bronchitis
*Used to treat symptoms of dermatitis, psoriasis, eczema, and sunburn
How To Use Sea moss:
-Use internally to boost your immune system and aid in several health issues.
-Use as a face mask to help detox your skin, tighten pores and restore skin elasticity.
-Use as thickening agent to thicken your soups and sauces or add to shakes and smoothies.
-Use as a hair gel by boiling a few tablespoons in water for a couple of minutes then cool. Add additional your favorite carrier oils to lessen the crushed feel when it dries in your hair. For added benefits add aloe vera gel and essential oils.
The statements above have not been evaluated by the United States Food and Drug Administration (FDA). This product is not intended to treat, cure or prevent any disease.

Please consult your doctor or physician before using our products and do your research.
Wonderful Product
Really love your product. I have used every day since I received it Was wondering if I order several bottles or jars at a time how well it freezes since it is highly perishable and don't want to order every other week. Please let me know. Your product has a really high mineral content, my eyes and sleep have responded quite well in a short amount of time. Very pleased and thankful. K
Awww! So happy you are enjoying the wonderful benefits of this powerful superfood. You can definitely purchase multiple jars. They can be transferred to a freezer safe contain and will last up to 6 months frozen. You just place the amount to wish to use in the fridge the day before you're ready to use so it defrost naturally and then it's ready to consume.
Contact me anytime foe more details.
Blessings.